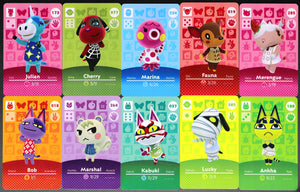 10pcs Most Popular Character Animal Crossing Amiibo Pro Quality Custom NFC Card Bundle
This bundle is for those of you looking for a quick way to get the hottest characters at a price break!
These are CUSTOM FAN-MADE NFC PVC CARDS with print directly on the card. No stickers or gimmicks. They are high quality cards and are very durable. They are printed edge-to-edge and look outstanding!
Each card comes with a plastic sleeve for protection and is shipped with tracking, not in a letter envelope!
This item works exactly the same in Animal Crossing New Horizons as the official Amiibo cards.
You can scan it to invite the villager to your island.
Instructions for Use:
Ensure that you have built a campsite on your Island
Select invite Amiibo camper from the Nook Stop terminal in Resident Services
Place the tag on top of the stick on the right Joy-Con
The invited villager will then be waiting for you at your campsite that day
If you would like the villager to live on your island you will have to invite them to the campsite on two additional occasions by repeating the steps above and completing the tasks that they request.
Card List:
#018 Bob
#019 Fauna
#037 Kabuki
#077 Cherry
#173 Julian

#188 Ankha
#234 Marina
#264 Marshal
#285 Merengue
#385 Lucky