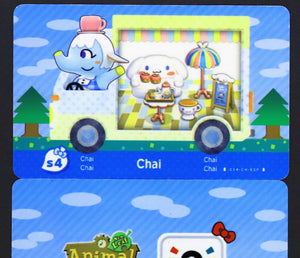 Chai - Sanrio Series #4 Animal Crossing Amiibo Card
These are CUSTOM FAN-MADE NFC PVC CARDS with print directly on the card. No stickers or gimmicks. They are high quality cards and are very durable. They are printed edge-to-edge and look outstanding!
Each card comes with a plastic sleeve for protection and is shipped with tracking, not in a letter envelope!
This item works exactly the same in Animal Crossing New Horizons as the official Amiibo cards.

Top Articles
READ MORE
Black Lightning Season 4 Episode 5 Review: The
Book of Ruin: Chapter One: Picking Up The Pieces | Den of Geek
SKIP AD
After you've scanned the new Amiibo cards, you'll just need to purchase the corresponding character items from your village's Nook shopping service.
How to Scan Sanrio Animal Crossing Amiibo Cards
If this is your first time buying Amiibo cards (or an Amiibo) for the Nintendo Switch, you're probably wondering how you're actually supposed to scan them. Here are Nintendo's own instructions for completing the (thankfully simple) process:
Ensure your console has the latest system update.
Start the amiibo-compatible game and follow the on-screen instructions.

Please note that you may need to look up the software manual for information on where in the game you can use amiibo.

Touch the amiibo to the NFC touchpoint.

On the Joy-Con, the NFC touchpoint is located on the right control stick.
On the Pro Controller, the NFC touchpoint is located over the Nintendo Switch logo at the top-center of the controller.
On Nintendo Switch Lite, the NFC touchpoint is located on the right control stick.